Our Investment and Wealth Management Survey explored what sector firms perceive to be the key challenges associated with the FCA's Consumer Duty.
At a Glance
This blog discusses the results of the Deloitte Investment Management and Wealth ("IMW") Sector Survey exploring the key challenges posed by Consumer Duty (the ''Survey''). It follows our previous blog which set out some overarching impacts the FCA's proposed Consumer Duty may have to the sector.


The FCA's Consumer Duty stands at the heart of the FCA's commitments in its focus areas and it is clear this will form a significant part of its efforts in the year ahead. FCA's 2022-2025 strategy emphasises a focus on the Consumer Duty, whereby "firms will need to understand and evidence whether those outcomes are being met."


Thus, to prepare for the upcoming requirements firms should carry out a gap analysis across all products and services to identify the nuances of their business model, strategic and commercial considerations and inform a detailed plan of required changes.


For a better understanding of the impact that the FCA's new Consumer Duty will bring to asset and wealth managers specifically, Deloitte have conducted a IMW sector survey which aimed to capture the elements of the Consumer Duty propositions that may concern the firms the most. The Survey also explored which outcomes may present the biggest challenges for firms in the sector to achieve and implement. Firms participated in the Survey provide a representation across various types of firms of the IMW sector such as asset managers, investment platforms and wealth managers covering various asset classes including alternatives. Whilst this Survey is conducted for firms in IMW sector, Consumer Duty impacts all financial services sectors that have exposure to retail consumers.


This blog summarises responses with regards to 1) How Consumer Duty is ranked alongside other strategic priorities; 2) Key challenges associated with implementation; 3) Governance and oversight; and 4) Prioritisation of the Consumer Outcomes in terms of perceived effort to implement.
Detailed survey findings
1. Firms' strategic priorities and how Consumer Duty ranks versus others
The vast majority of our respondents acknowledge that implementing Consumer Duty is a strategic and regulatory priority for this year. This is somewhat unsurprising, given the number of resources the firms require for this significant transformation programme which covers performing a gap analysis on their policies and processes, making relevant adjustments through change management, training their staff on the new requirements, IT system changes and resources required to monitor and test consumer outcomes.


Concurrently, firms acknowledged that they are facing a number of other business strategic priorities, including expansion of ESG and Sustainable Finance capabilities, digital transformation, as well as other regulatory led priorities, such as product and governance, assessment of value, managing funds liquidity, governance and oversight, and enhancing suitability and advice processes.


As expected, almost half of respondents (47%) raised concerns about the size and a scale of the Consumer Duty change programme. However, almost half of the respondents (52.4%) had not yet started to prepare for the Consumer Duty and only 10% of the firms have established a related project and working through it as of April 2022.
Figure 1. Readiness status to Consumer Duty implementation
Given the volume and complexity of the upcoming rules, we recommend that firms should prioritise their preparations for compliance with Consumer Duty rules in light of relatively tight implementation period of 9 months ending 30 April 2023.
2. Key challenges of Consumer Duty implementation
The FCA expects firms to have the right mindset, right culture and right data in place focussing on the four consumer outcomes. The extent of impact on firms will be largely driven by whether current operating models and culture encourage and promote positive outcomes for consumers that benefit from the products and services they buy. The gap analysis in the context of Consumer Duty needs to take into consideration impact on business strategy, operating models, governance and oversight, technology and data.
We explored with the firms the areas of their concerns around Consumer Duty implementation. Figure 2 shows that the Consumer Duty can have multiple implications which respondents saw as a key concern.
Figure 2. Elements of Consumer Duty that concern the firms the most
We explore the three most common issues firms have concerns about below.
2.1 Evidentiary burden and Data quality
57% of the respondents expressed their concerns in the survey about evidentiary burden and data quality required to produce the annual report to the Board that sets out how the firm has delivered against the Consumer Duty outcomes. Firms firstly need to define what good outcomes look like for them and will need to identify data to demonstrate those consumer outcomes. Firms should consider the following when assessing data quality:
Identify the relevant sources of data to support outcomes testing, considering the type of information, and how frequently it is collected.
How the type of information collected will differ across various business units, depending on their size, business model, products, target market and distribution strategy. Obtaining information from distributors still represents a challenge in the industry.
Whether data is comprehensive and enables regular review of the consumer outcomes and can be mapped back to the rules.
Whether additional processes are necessary to capture required information to evidence adherence to Consumer Duty requirements.
Without question, data will play a fundamental role in supporting firms to fulfil their obligations to monitor, assess, evidence whether they are delivering good outcomes.
2.2 Concept of foreseeable harm
33.3% of respondents raised concern with the definition of the foreseeable harm concept. The Consumer Duty's cross-cutting rule requires that firms do not cause any harm to customers through their conduct when delivering its products or services.
Consumer Duty narrows down the concept of harm to consumers and emphasises that the firms are responsible for addressing harm when it is reasonably foreseeable at the time. Key actions of avoiding foreseeable harm to retail consumers include:
Considering actions which could ultimately impact the end retail investor
Collecting enough information to ensure the products are realising the financial objectives for the consumers and aligned to the disclosed investment strategy to avoid any harm, for example unfair value or a risk of greenwashing
Reviewing the portfolio composition and rebalancing the funds' portfolios of assets when necessary
Monitoring and testing aspects of product design, marketing, sale and customer support to ensure these do not cause foreseeable harm
Consideration of behavioural features, such as 'inertia' that might lead to the cause of foreseeable harm (for example remaining in the expensive share classes when cheaper share classes are available within the fund range)
Consideration of whether the funds are appropriate for the relevant target market and distribution method during its design process.
2.3 Individual accountability
Figure 2 shows that 14.3% are concerned with an upcoming increased individual accountability requirement. Whilst the Consumer Duty does not require a single senior manager to be responsible with all aspects of the Consumer Duty, firms should review responsibilities of its senior management to ensure these are aligned with compliance with Consumer Duty outcomes. The FCA proposes to amend the SMCR individual conduct rules to reflect higher standards of Consumer Duty and expects firms to step up and put consumers at the heart of their business.
3. Governance and oversight over Consumer Duty outcomes
The FCA has specifically said that it expects the firm's board, or the equivalent governing body to review and at least annually approve an assessment of whether the firm is delivering good outcomes for its customers which are consistent with the Consumer Duty.
We have explored with firms which Committee they foresee to be tasked with overseeing implementation and ongoing monitoring of Consumer duty (Figure 3).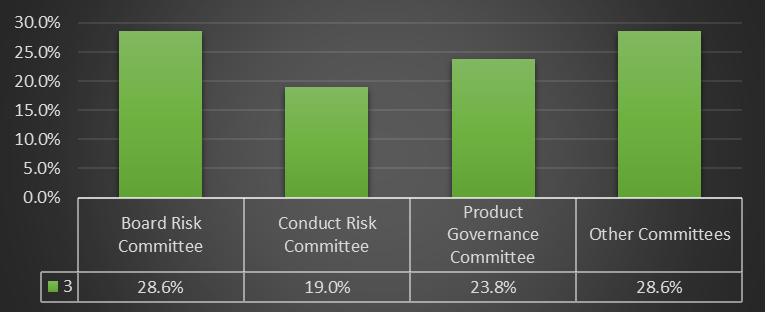 Figure 3. Committees that the firms foresee to be tasked with overseeing implementation and ongoing monitoring of Consumer Duty
Given the broad remit of the Consumer Duty, firms should think carefully which committee is most appropriate to oversee outcomes on an ongoing basis. Should firms use a committee to oversee the Consumer Duty outcomes, they should consider the remit and attendance to ensure it has sufficient representation to cover all aspects of the Consumer Duty. For example, there is an obvious challenge as to whether a Product Governance committee currently has the remit and expertise to oversee the Consumer Understanding and Customer Support outcomes. We would also expect that the management bodies' Terms of Reference (TOR) to be reconsidered to be able to oversee and challenge outcomes effectively.
Some respondents' firms are looking to set up a new dedicated Conduct and Client Outcomes Committee to oversee the compliance with Consumer Duty outcomes.
To ensure robustness of the governance arrangements, now is the time to consider the following:
Board Involvement: Nominating responsible person(s) on Board level from the beginning and consider incorporating their regular Board cycle review as a standing item to ensure readiness for the annual attestation.
MI development: Developing a strategy to regularly monitor customer behaviour and product performance to demonstrate that expected outcomes are achieved and maintained is crucial. However, it is acknowledged that there are challenges in getting some MI, for example end client data from distributors.
Monitoring plan: Firms should consider putting together a high-level monitoring plan to make sure that all aspects which have been identified in the initial impact assessment of Consumer Duty gap analysis can be tracked to close out.
Leveraging existing frameworks: Existing PROD, Assessment of Value and Conduct Risk frameworks may assist firms to consider the ways in which oversight can be accommodated within existing governance processes, and where changes are needed.
4. Prioritisation of Consumer Outcomes
We explored with firms which Consumer Duty outcome the firms require to the most focus and resources.
The result of the Survey recognises that Price and Value and Customer understanding outcomes create the most challenges in their implementation of the Consumer Duty, as shown in the Figure 4 below.
Figure 4: Consumer Duty outcomes requiring most focus and resources
4.1 Price and value outcome (57.1%)
Assessment of Value has been a hot topic in the Asset Management industry and a focus of the FCA in recent years, nevertheless a number of respondents, of around 57.1%, have shared their concern with the challenge of the Price and Value Outcome. Perhaps the biggest driver here is the requirement for a manufacturer's assessment of whether a product provides fair value to include the expected total price to be paid by the retail customer or that may become due from the retail customer (PRIN 2A.4.7 R (3)). Many manufacturers do not currently have the data points to support this assessment.
Firms need to also take into consideration the value for different groups of consumers. Where firms charge different prices to separate groups of consumers, they should consider whether the price charged for the product provides fair value for each group of the consumers.
Firms need to also ensure their funds and investment products are appropriate for the intended target market. Firms should set up robust governance and oversight processes over investment strategies set out by Investment Managers. In addition, ensuring that the quality of the investment process is incorporated in the Assessment of Value and does not rely solely on the assessment of the fund's performance.
4.2 Customer understanding outcome (38.1%)
Similarly, a large proportion (38.1%) of surveyed companies identified the Customer understanding outcome as an upcoming challenge in the implementation of the Consumer Duty. Under the proposed rules, a firm must test communications before communicating them to retail customers (PRIN 2A.5.8R (1)). For many asset managers, who do not have direct interaction with retail customers, this could pose a challenge.
In a sector where many key disclosures are already heavily regulated, a question remains what firms should do if customer feedback reflects badly on certain disclosures where templates are mandated by existing regulation.
Firms should consider testing consumer understanding on a risk-based approach. Risk appetite should be considered for the extent to which, and method of testing should be employed. This may include setting up focus groups of the consumers or developing questionnaires to test your target markets understanding of communications.
Another area for consideration is tailoring of customer communications, whereby it is expected that the target market is identified, and the firm's communications are tailored to the level of sophistication of consumers. Also ensuring consumers vulnerabilities characteristics are considered.
4.3 Consumer support outcome (4.8%)
A negligible number of respondents raised concerns about the consumer support outcome, which is line with our conversations with the firms. Although firms should ensure relevant MI is monitored on customer metrics such as customer engagement, root cause of consumer complaints, customer retention records and themes coming out of complaints.
Firms should challenge themselves on the indirect consumer touch points where retail customers place greater reliance on the firm. Firms may wish to consider additional quality of service metrics, including re-registration timeframes, best execution, fund administration services etc.
4.4 Products and services outcome (zero%)
No respondents raised concerns with the Product and Services outcome from the Consumer Duty, perhaps because of the overlap with the requirements of PROD. Some firms however raised questions around clarity of how existing PROD requirements differ from those proposed in the FCA consultation paper.
Consumer Duty places greater consideration on ensuring fair outcomes for consumers, solely adhering to PROD requirements would not necessarily mean the firms comply with Consumer Duty. For example, it is crucial that the firm identify the target market at a granular enough level and monitors the end client data to identify the vulnerable consumers or identify a group of customers with poor outcomes.
Compliance to the PROD requirements should be assessed through the lenses of the harm to the consumers and ensuring any potential foreseeable harm is identified and mitigated in light of upcoming Consumer Duty. We also expect the Consumer Duty to place greater onus on the industry to proactively share data on sales of products to their target market.
5. Management information (MI)
One of the themes that comes out of our survey is a question from the respondent firms on how to develop meaningful MI to monitor consumer outcomes.
The FCA expects the firms to:
Identify and manage any risks to good outcomes for consumers
Spot where consumers are getting poor outcomes, mitigate the harm and understand the root cause
Have processes in place to adapt and change products/services or policies/practices to address any risks or issues as appropriate
Unsurprisingly, the majority of respondents (76%) of firms advised that MI and KRIs that the Board currently receives will require enhancements to cover all four Consumer Duty outcomes. Firms should consider the following, amongst other aspects, when developing MI when working through their implementation efforts:
The new or revised statements of expected outcomes, revised risk appetite, and strategic goals
How to better engage distributers to enhance data on sales to target markets
Expanding price and value MI to all products and services that are in scope of the Consumer Duty, considering the total cost to the retail customer
How to evidence customer understanding and testing outcomes support data, for example through the focus groups; testing results of user interface and design of apps, and how these impact consumer behaviour; reviewing customer retention records, including cancellations rates, transfer times and other themes identified from consumer interactions
Reporting on root cause analysis of consumer complaints and the number of the complaints
Compliance monitoring and internal audit reviews of the Consumer Duty outcomes
6. Conclusion
Firms should take the time now to understand and consider which of the new requirements of the Consumer Duty apply to their business model and consider what this shift in expectations means for them. Developing detailed implementation plans and identifying the products and services that are in scope of the Consumer Duty, to ensure a consistent approach across businesses products and third parties which provide relevant services to them is crucial.
Firms should prioritise those activities, for example product reviews, undertaking value assessment, developing customer understanding tools and communications material reviews, which are likely to be most time consuming. It will also be important for firms to build in flexibility from the outset to enable them to adapt both to the FCA final rules and good practice, as the industry responds to the implications of the Consumer Duty. The Survey results review provides a generic overview of themes, the firms should undertake their own assessment of how the Consumer Duty applies to their firm given its business strategy and target operating model.