This is the second post in our series of Process Bionics blogs, focusing on how to maximise the benefits of process mining and how to deploy with success.
Read our first blog: Process Mining: A Catalyst for Transformation

What are the benefits of using process mining?
The analysts' consensus is a market growth of 40-50% Compound Annual Growth Rate (CAGR) until 2028, to between $8bn and $10bn annual market value. Our belief is that the primary driver of this massive growth is the value of insights that can be gained from data across the enterprises and industries, combined with rapid deployment capability.
Because of this increased insight into business processes & organisations, respondents in the Deloitte Process Mining Survey 2021, highlighted the following benefits:
Real-Time Operational Insights
Increased Process Transparency
Expedited Benefits Realisation
Supporting Better Investment Choices
Enhancing the Confidence in Identified Benefits
Identify Process Risks and Mitigations.
Moreover, in our experience, it also enables further key benefits to be realised within the business such as empowering colleagues to make data driven decisions in new and improved processes. Also, the ability to upskill employees in the latest technology and provide them with increased process transparency. As colleagues achieve greater process transparency, they can suggest their own improvements. Additionally, it can increase customers and colleague satisfaction by providing a market leading process & journey experience thanks to process optimisation. With these process changes, key performance indicators (KPI's) improve such as throughput time or reduction of manual repetitive tasks.
Figure 1: Expectations of process mining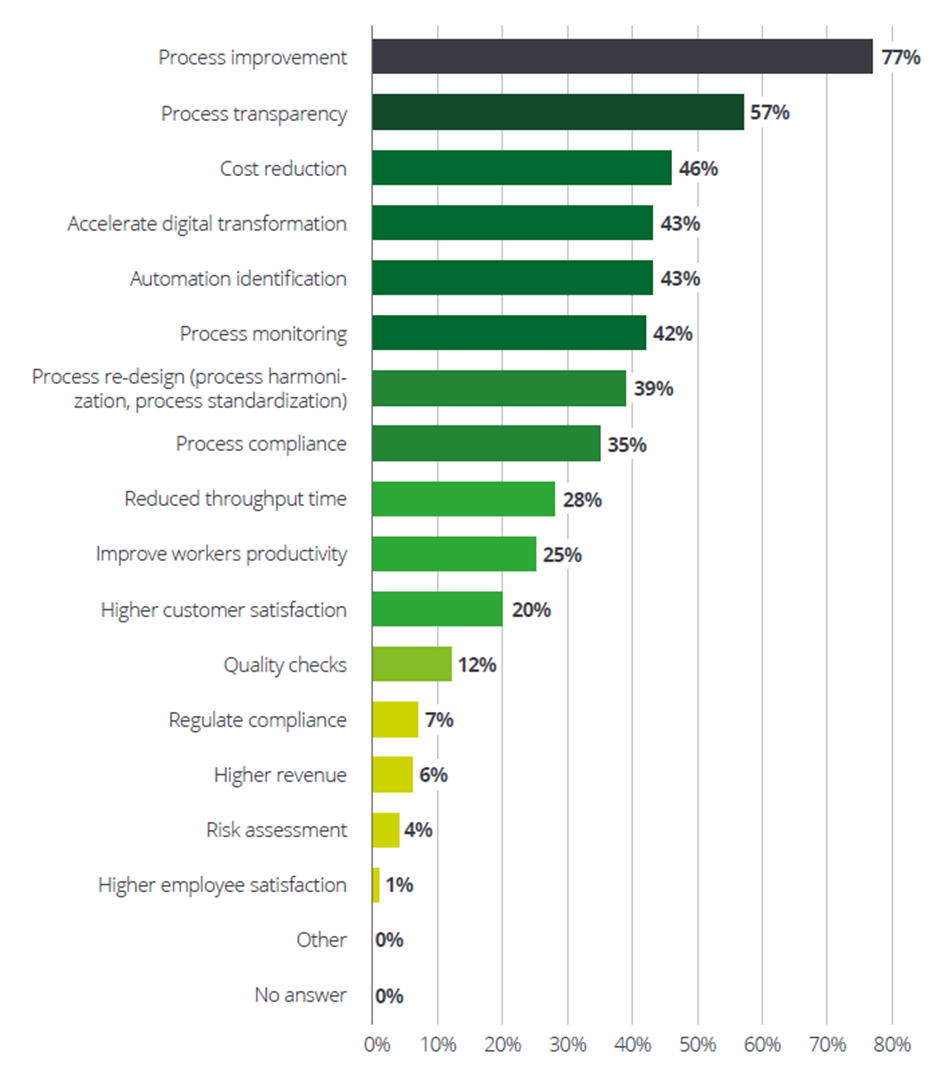 What are the behaviours of the best organisation?
A study conducted in the early 2000's showed Return on Investment (ROI) was 143% when strong organisational change management (OCM) was included as part of a project plan, yet only 35% with a weak OCM. Within the Deloitte Process Mining Survey 2021 it was identified by 66% of responses that having C-suite actively supporting process mining enables greater ease of adoption to the new system. Moreover, respondents stated that cross department alignment between business and IT as the top success factor for organisations to have a smooth implementation.
The communication between relevant stakeholders in key teams, in conjunction with the support of the C-suite, is essential to a successful adoption and implementation. With 43.4% of respondents feeling that the Business is responsible for process mining initiatives and 62% for responsibility in backend / data modelling being IT's responsibility these teams need to communicate clearly and align on how best to achieve the desired future goal.
Figure 2: Top 5 Success Factors
What are the keys to success?
The top 5 success factors require departmental alignment between IT and Business, dedicated resource availability, data quality and transformation are incredibly important, but what does this look like?
Data Quality & Transformation
51% of respondents stated that data quality is crucial to the success of process mining initiatives. However, how do you know if you have high quality data? This requires Accessibility and Completeness.
Accessibility means you have a good understanding of your systems and data and know where to look for a particular dataset and your IT department needs the necessary expertise in both extracting and transferring the data. Accessibility can be broken down into three criteria:

Data Expert Accessibility: Arguably the most important variable in the equation. Subject matter experts know and understand the data, how it fits into the overall process and how it is input into the system. Make sure you utilise these people as soon as possible to get the most out of your data

Process System Accessibility: It is vital that all systems used within a process are known and well understood, how it is stored and how it can be accessed. Ultimately, the most successful projects are the ones where systems and the data within them and how they interact in the bigger process picture, are the best understood. It's like digging for gold, the better you know the area, the greater the success rate.
Data Accessibility: With the increase adoption of the 'Always On' capability this instigates a key design question regarding how the core business systems need to be designed. To achieve real time insights, businesses need to work with IT teams to specify how current the insights need to be as well as what systems to extract / connect to, ensuring data is easily available and potential delays are captured early on Defining

Completeness means your dataset contains all the information necessary to build process mining data models and to deliver the desired analysis. If you follow the three accessibility criteria above, completeness should be automatically built into the data that is being transferred so that the value realisation can take place much faster.
Think Big, Start Small, Scale Fast
In our experience we have seen the best outcomes achieved when companies identify, and harvest quick wins identified through process mining and use it in parallel to identify follow-up initiatives that promise even bigger benefits but may take a certain lead time to become effective. As mentioned in the Deloitte Process Mining Survey 2021, 38% of respondents stated it is key to ensure that you have the dedicated resources available from technology and workforce.
The way to ensure that you get the most value out of your process mining capability is by ensuring you have real time insights and adaptive processes through the Execution Management System 'Always On' functionality. This takes it a step further by incorporating features such as simulations, digital twin, real time KPI tracking and continual improvement, turning insight into action.
Deploying process mining in an 'Always On' execution management mode, with sensor points embedded in operational processes that provide operational MI and allow leaders to quickly understand and respond to changes in demand or issues. The 'Always On' mode has the added advantage of helping to drive continuous improvement as you can see the impact of every change and quantify the benefit it delivers. Deploying this capability allows you to define and sequence improvement activity.
Transformation Initiatives
To achieve as many of the success factors as possible, we suggest establishing it as part of a wider transformational program. This will ensure we have the right leadership, discipline and rigour around governance, benefits tracking, benefits realisation, opportunity prioritisation, mindset shift and culture adoption thanks to well-orchestrated delivery. It also means you will be able to quickly identify any current inflight initiatives as well as the vision for the company in the future and how process mining can support the business in achieving this.
Figure 3: Critical Success Factors
Through the application of these success factors mentioned, and other key insights identified in the Deloitte Process Mining Survey 2021, companies stand a much higher chance of a successful process mining proof of value of wide scale implementation to realise benefits both in the short and long term.
Click here for our Deloitte Process Mining Survey 2021
Want to use process mining in your organisation?
If you are ready to bring process mining into your business, please contact our leads: