In the first blog of this series on framing a financial institution's climate risk appetite, we introduced five key challenges. In this blog, we address the first of these in more depth. We discuss the importance of clarifying your institution's strategic ambition on the climate change agenda and reflecting this within the Risk Appetite Framework (RAF).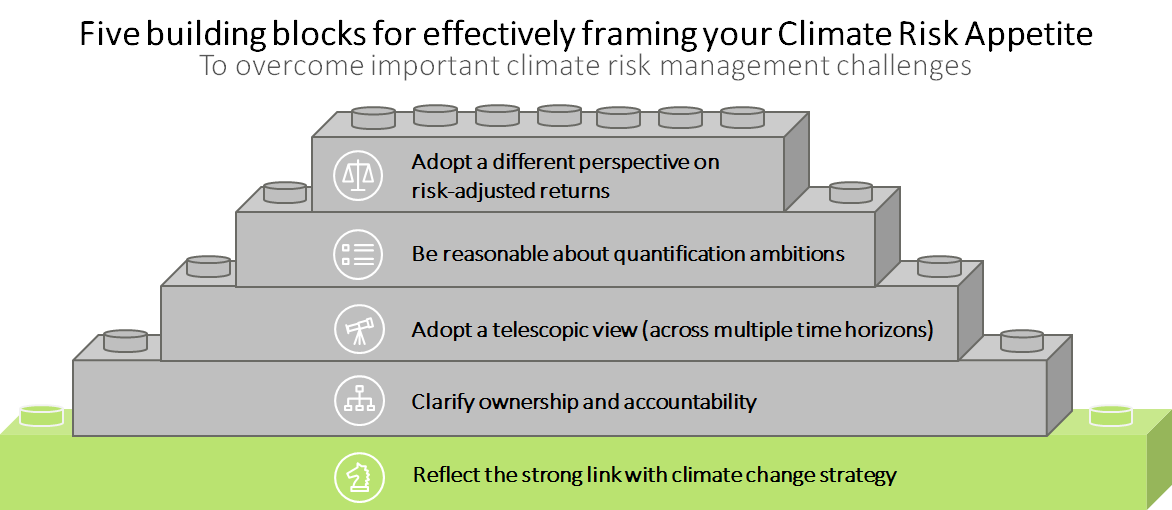 Building block 1: Reflecting a strong link with your climate change strategy
Our view is that Chief Risk Officers (CROs) across a range of financial institutions[1] should be seeking to influence and help shape the institution's climate change strategy. This should be done in parallel to the CRO's primary responsibility of overseeing the effective management of risks emanating from climate change. The RAF is one important mechanism for the CRO to incorporate climate risk in a way that best reflects the institution's strategic vision on climate change. It should clearly capture the financial and non-financial risks emanating from climate change and articulate the levels of risk that the institution is willing to accept, commensurate with its stated climate change ambition.
When setting climate change strategy, the Board will need to determine how prominent a role its wants to play on the climate change agenda. This will need to reflect the institution's business ambitions as well as its response to regulatory expectations and investor activism. It will also need to reflect its engagement with customers and climate change aspirations of clients. Each institution's ambition, and the progress made on the climate change journey to date, will vary widely. The CRO or Senior Manager designated with climate risk accountability should (possibly jointly with the Chief Sustainability Officer) help the Board and the management team carve out what role the institution wants to play, recognising the different choices and responsibilities that accompany each.
Figure 1 provides a characterisation of four different roles an institution could adopt on the climate change agenda, each with a different emphasis and implication for risk appetite. The table below expands upon this with examples.
Figure 1: Your institution's ambition on the climate change agenda
| | | |
| --- | --- | --- |
| Climate change ambition | Example | Implications for risk appetite |
| Catalyst: Through its strategies and partnerships, is your institution actively supporting the transition to net zero carbon emissions and looking to lead on global initiatives even before peers are ready to make commitments? | Bank vocal about its role on the climate change agenda, also initiating and leading on public-private partnerships. | Setting the direction and pace of change presents the potential to gain recognition from many public and private stakeholders. It also presents significant commercial opportunities. This will inevitably require the acceptance of reputational and/or financial risks that come with delivering climate change objectives in a timely manner. Risk appetite will need to be dynamic and expansive to support such a bold and ambitious climate change agenda. |
| Strategist: Is your institution already marrying climate change purpose with opportunity? Is it looking to adopt a joined-up approach between managing risks and pursuing climate-related opportunities? | Insurer with investment arm that adjusts for the increased underwriting risk associated with climate change by simultaneously channelling funds towards green projects. | Pursuing a joined-up approach will require: consensus between the institution's Risk Management and Strategy functions; risk appetite that does not constrain the business from achieving its goals in line with strategy; and a firm commitment to delivering on the strategy. |
| Steward: Is your institution's primary aim to re-align its portfolios to mandatory targets and manage climate risks without necessarily seeking a wider public profile? | An asset manager that meets client demand on sustainable funds, say through exclusion or screening methods, with a primary focus on protecting asset valuations and client demand without necessarily advocating climate action. | Setting risk appetite at a level that reflects the prevailing sentiment and steers the business in order to protect, and be better informed of the true riskiness of, existing portfolios. This will help to drive a lower risk profile and higher returns on a risk-weighted basis. |
| Operator: Is your institution seeking primarily to comply with mandatory regulatory requirements and meet an acceptable level of stakeholder expectations, with its primary focus on other risk categories in the short-term? | Financial institution seeking to comply with regulatory requirements on climate and sustainability to a high standard. It is not actively looking to pursue business opportunities that come with climate change, hence the climate risk approach centres largely on risk mitigation and resilience. | Reflecting a modest climate change ambition, the RAF will necessitate a relatively risk averse approach and restrictive risk appetite to ensure risks are well controlled and mitigated. The priority may be largely on developing climate risk metrics and climate risk methodologies. |
Most institutions will not place themselves as exclusively one role or the other. They may have the ambition to fulfil each of the four roles in some measure. As an example, one institution may seek to be a trail-blazer on the quality of its climate disclosures (say, as 'catalyst'). But it may have made limited progress in developing and embedding its climate risk metrics (so its 'operator' strengths may be weaker). Whatever the institution's ambition, it may not seek to be at the forefront in all four roles. The CRO should reflect the primary role the institution wants to lead on by channelling focus and efforts to the relevant aspects of the RAF.
Box 1: Climate-inclusive Risk Appetite Framework
Risk appetite has many elements to it including Strategy, Culture, Governance, and Methods and Metrics. Climate change ambitions need to be reflected across these different elements. To illustrate this point, we look at what good progress on a climate-inclusive RAF might look like for one of the four roles – that of the catalyst. Figure 2 provides some illustrative climate change milestones for each of the four elements.
Figure 2: Example climate change milestones reflected in the Risk Appetite Framework of a catalyst
The milestones shown are illustrative and a range of alternative milestones could feature. In Figure 2, a catalyst is keen to champion the climate change agenda and is driving transformational change, internally and externally. The RAF reflects these commitments, sets high expectations and demonstrates greater ambition across the board. The catalyst is not just actively seeking to play a role in public-private initiatives; it might also adopt automatic screening of all new and existing business, for example. Clients screened as an adverse climate risk might either be excluded or given unfavourable terms to reflect the institution's commitment to accelerate the transition to a low-carbon environment across its sphere of influence. Ultimately, it would also reflect the institution's risk appetite.
By contrast, institutions with more modest ambitions (say, as 'operator') can be expected to take on a more guardian-like role, with fewer near-term ambitions to advance the low-carbon transition. An operator's climate risk appetite might focus development more in areas such as Governance as well as Metrics and Methods, drawing on industry standards and internal insights. It may place less emphasis on the Strategy elements in the top left quadrant of Figure 2, whilst still meeting regulatory and other management expectations to a very high standard.
With climate change priorities clarified, the CRO is much better placed to manage the constrained resources of a Risk function to develop those aspects of the RAF that matter most in the near-term.
Iterative process to ensure ongoing alignment
Institutions would do well to articulate their aspirations on the climate change agenda first and then capture the risks associated with this ambition. Mapping these risks to the RAF then becomes one of the more significant leadership achievements of the CRO Office when mobilising on climate risk management.
Ideally, setting the climate change strategy should precede business-as-usual climate risk management activities. The reality is that some institutions will be developing the RAF with some institution-wide climate risk commitments already set in motion and climate risk practices developed. Strong ongoing alignment between the institution's business strategy and its RAF has always been an important success factor in making the business strategy operationally sound from a risk management perspective. This holds true for climate risk. The exceptionally forward-looking and cross-cutting nature of climate risk does, however, require a more iterative process to ensure strong ongoing alignment between climate change strategy and the RAF.
Even with an iterative process, the CRO Office should ultimately be better placed over the longer term. Risk appetite boundaries can be better designed to cater for the known climate risks and at the same time absorb any adverse implications of unfulfilled or missed strategic ambitions and business opportunities.
Concluding comments
In summary, the CRO Office has a prominent role to play. The CRO Office should design a climate-inclusive RAF whilst also looking to influence the climate change strategy, possibly in parallel. It should look to partner with the Board and the management team on climate change strategy, even if its primary longer-term responsibility is to oversee the effective management, measurement and monitoring of climate risks. Articulating top-down climate risk appetite through a qualitative Board-level statement linked to strategy would be a sensible starting point.
With this challenge addressed, we move to other related challenges, including the problem of "finding a home" for climate risk within the RAF and the practical challenge of setting appetite for climate risk across multiple time horizons.
[1] Financial institutions here is intended to cover banks, insurers and large asset managers.
--- END ---
Our Financial Risk Management and Sustainable Finance teams would be pleased to discuss any aspects of this with you further. Please reach out to the authors for further discussion.